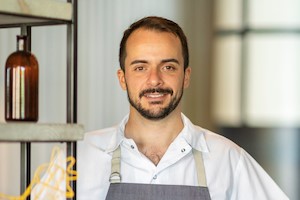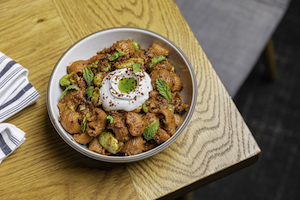 Chef John DaSilva of Chickadee, Boston, MA and his dish, Harissa Lumache with Australian Lamb Sugo, Fava Beans and Labneh
What was the inspo for this dish?
Pastas are a core part of our menu, and we love to keep lamb in the rotation. I love how Australian lamb's natural flavor stands up to the bold spices I like to use. Harissa and lamb is a no-brainer pairing that bridges the middle east and Mediterranean. This dish gives you those big tagine flavors of North Africa, but in a comfortable context with the pasta. There's harissa in the pasta dough itself, and in the braised lamb sugo, too. A little mint oil along with the labneh tames the heat a bit, and the fresh favas give a nice little pop and earthiness, too.
How did guests respond to the run of Aussie lamb on the menu?
Our guests really loved this dish! The dollop of labneh as a cooling element ended up being a really fun touch, balancing the heat of the harissa and giving a way to customize each bite. It was an unexpected garnish that really brought it all together.
What are some of your favorite cuts of lamb to work with?
Hands down I love the lamb saddle, it just melts in your mouth. I would take that over a ribeye any day! It's so tender, and you can go so many directions with it. Delicate, briny, bold, spicy, sweet. But sometimes those higher-value cuts of lamb can be intimidating on the menu. Using a cut like shoulder or even ground lamb as we did here is dynamite in a pasta dish, makes it easier for guests to order, and for me with managing margins, too.
What advice do you have for chefs thinking about using Aussie lamb?
Take advantage of the flavor opportunity you have – you can go big and bold without overwhelming the natural taste of the meat. You can really taste the pasture where these lambs are coming from – I was getting a briny, oceanic flavor from mine, which is so great to work with for flavor pairing.
Nice one Chef! A stop at Chickadee is clearly on the books the next time we're in Boston.